About Us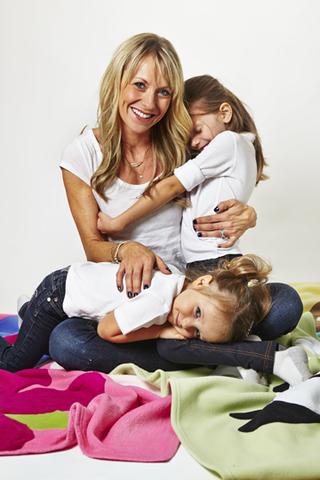 Admiral Road has been making fabulous fleece personalized blankets, handmade with loving care, in Toronto, Canada for nearly 20 years. The product line has grown to include a wide variety of original designs with an emphasis on beautiful, practical blankets for babies and big kids. It has grown to be the largest of its kind, and has garnered the attention of local and international media. Our blankets have been featured in INSTYLE, and Redbook and remain a favourite amongst celebrities and families around the globe.
Owner/operator Teri Kramer comes from a television background, having reported news and entertainment for nearly 10 years. But she traded in her microphone for sippy cups when she became a mom to two great kiddos. Teri then bought Admiral Road from a family member in 2013 and hasn't looked back. She says her customers feel like old friends, and she loves having a place in their hearts and homes. Andrea, from Toronto writes:
"I was making my son's bed today while he was at work: he turned 18 years old a few weeks ago. I looked at his personalized blanket and thought, wow, this blanket has been with us since he was a baby! It still washes like a dream, the colours are still amazing, and it never pilled. What an amazing product. I looked at the tag and thought, I am going to share this success story. Congrats to you & your company for making an incredible long lasting product. In today's world of quick-use products that seem to break after 6 months or fall apart, your product is a beacon in quality. You should be proud."
Teri calls Admiral Road the "happiest business on earth" and looks forward to continuing to make beautiful and cozy blankets for babies at home and around the world.